Today we are going to be reviewing the new Turtle Beach Xbox controller. This is a controller that has been designed for gamers who want crystal clear audio and chat when they are playing their favorite games on Xbox One or PC. It's also compatible with Windows 10, so if you're looking for an excellent experience when gaming on your computer then this might just be the perfect product for you! The best part about it? You can plug in any standard headphones into the Turtle Beach Audio Hub with 3.5mm jack. The butons at the top of the controller are used to improve audio are programable to different play styles.
At the top of each Xbox controller, above the home button and below the joystick, are six additional buttons. These buttons allow you to control external audio like your TV or headset without having to go through a different device.
Turtle Beach has baked a bunch of the features you'd usually find in Turtle Beach headsets right into their controller. You can adjust EQ presets, create custom volume mixes between game and chat audio, monitor your mic's input levels with proper monitoring tools, and have one dedicated mute button for quick access.
One of the best fearures built in is a dedicated toggle is the company's 'Superhuman Hearing' setting. Superhuman hearing is a great addition for competitive settings because it gives you the ability to hear every little sound that's happening, like footsteps creeping up behind or grenades landing nearby. It can also ruin carefully-constructed sounds in single player games though!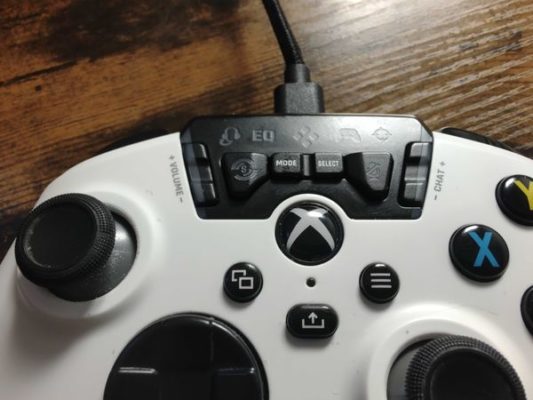 Besides the amazing audio features, it has all the things you are used to on a controller. This is a standard Xbox controller with two quick action paddles on the underside, which works across PC and consoles. It has all of the features you would expect from an Xbox One & Series X & S compatible accessory including audio amplifcation capabilities built into it.
The Turtle Beach Xbox controller has custom mapping and pre-set profiles, which is a similar feature set to other 'pro'-minded controllers. This allows players the option of saving custom button maps for different games or saved presets that can be switched between on the fly by switching through three separate profile slots – something not available in competing products like Microsoft's own expensive, but high quality Elite Controller.
There is a secret weapon on the gaming input function – 'Pro-Aim'. This feature temporarily reduces the sensitivity of the right thumbstick, helping in intense situations such as sniping. While this sort of tool can be found on many mice and it's fine to use if you need it for something specific, having one only makes sense when using your controller with games that require more precise aiming than others.
If you've been in the market for a new Xbox controller, it doesn't get much better than this. The wireless connection is great and works well enough with many different headsets—even if they don't come from Microsoft themselves. And when you add in that these controllers are cheaper than most of their competition? You can see why we think this may be one of the best-value options on shelves today. So what are you waiting for? Find the Turtle Beach Xbox controller in our store today.